Climate change refugia and habitat connectivity promote species persistence
Climate Change Responses
2017
4:8
Received: 1 June 2017
Accepted: 3 December 2017
Published: 22 December 2017
Abstract
Background
Climate change refugia, areas buffered from climate change relative to their surroundings, are of increasing interest as natural resource managers seek to prioritize climate adaptation actions. However, evidence that refugia buffer the effects of anthropogenic climate change is largely missing.
Methods
Focusing on the climate-sensitive Belding's ground squirrel (Urocitellus beldingi), we predicted that highly connected Sierra Nevada meadows that had warmed less or shown less precipitation change over the last century would have greater population persistence, as measured by short-term occupancy, fewer extirpations over the twentieth century, and long-term persistence measured through genetic diversity.
Results
Across California, U. beldingi were more likely to persist over the last century in meadows with high connectivity that were defined as refugial based on a suite of temperature and precipitation factors. In Yosemite National Park, highly connected refugial meadows were more likely to be occupied by U. beldingi. More broadly, populations inhabiting Sierra Nevada meadows with colder mean winter temperatures had higher values of allelic richness at microsatellite loci, consistent with higher population persistence in temperature-buffered sites. Furthermore, both allelic richness and gene flow were higher in meadows that had higher landscape connectivity, indicating the importance of metapopulation processes. Conversely, anthropogenic refugia, sites where populations appeared to persist due to food or water supplementation, had lower connectivity, genetic diversity, and gene flow, and thus might act as ecological traps. This study provides evidence that validates the climate change refugia concept in a contemporary context and illustrates how to integrate field observations and genetic analyses to test the effectiveness of climate change refugia and connectivity.
Conclusions
Climate change refugia will be important for conserving populations as well as genetic diversity and evolutionary potential. Our study shows that in-depth modeling paired with rigorous fieldwork can identify functioning climate change refugia for conservation.
Keywords
Climate changeHabitat connectivityLandscape geneticsMontane meadowsRefugiaSierra Nevada Urocitellus beldingi Yosemite National Park
Background
Attention on climate change refugia, areas relatively buffered from contemporary climate change over time that enable persistence of valued physical, ecological, and socio-cultural resources [1], has increased as scientists attempt to explain anomalies in the expected patterns of population responses to climate change [2–5]. Although managing climate change refugia is frequently identified as a key climate change adaptation strategy [1, 6], spatially explicit predictions of refugia and their effects on biodiversity are rare [5, 7, 8]. Most studies skip the key step of using independent data to evaluate whether these hypothesized refugia increase species persistence (Although see [9, 10]), which is necessary to confirm that investing limited resources into refugia is warranted [1].
We test whether highly connected montane meadows that have experienced little recent climate change [4] increase persistence of an associated species and thus act as refugia in the face of anthropogenic climate change. Montane meadows are key to alpine and subalpine animal communities, hydrological function, and human recreation, agriculture, and economy [11–13]. Recent work [4] used high resolution, dynamically downscaled climate models to map refugial meadow networks to identify where climate-sensitive species could persist, and restoration and conservation actions could be focused. Here we use data on site occupancy, site persistence, and population persistence as indicated by genetic diversity for the Belding's ground squirrel. Urocitellus beldingi is a 250 g social, semi-fossorial mammal that feeds primarily on grasses and is commonly found in mid to high elevation meadows in western North America [14, 15]. Although ecologically important as key prey items and ecosystem engineers, U. beldingi in California have recently undergone large climate-related declines in occupancy, except where "anthropogenic refugia" were created by supplements with water or food through high human activity (such as campgrounds and municipal parks) [16]. We predicted that populations located in highly connected refugial meadows identified by Maher et al. [4] on the basis of temperature and precipitation changes over the twentieth century would have higher contemporary occupancy, persistence, and, as a result, higher genetic diversity than sites that were not identified as climate change refugia. Our results validate the use of climate refugia as a key aspect of change climate adaptation.
Results
Occupancy
The 20 meadows occupied by
U. beldingi
in Yosemite National Park in 2011 experienced less change over the last century than the 18 unoccupied meadows based on the following five climate change indices (Fig.
3
, Additional file
7
: Table S6): change in annual minimum temperature (occupied meadow average = +1.30 °C, unoccupied = +1.66 °C;
P
 < 0.001), change in mean annual precipitation (occupied = +8.38 mm, unoccupied = +50.06 mm;
P
 < 0.001), number of months warmer than the historical extreme minimum temperature (occupied = 39.87, unoccupied = 62.94;
P
 < 0.001), number of months wetter than the historical precipitation extreme (occupied = 25.45, unoccupied = 27.74;
P
 = 0.007), and change in April 1st SWE (occupied = +11.68, unoccupied = +69.12;
P
 < 0.001). According to these indices,
U. beldingi
were more likely to be found in climate change refugia. Occupied sites within Yosemite National Park also had higher values of connectivity than unoccupied sites in relation to specific predicted barriers (topography:
P
 < 0.001; rivers:
P
river_pres
 = 0.007, W = 250,
P
river_dist
 = 0.021; roads:
P
road
 < 0.001; and climate-water deficit: W
histCWD
 = 310,
P
 < 0.001, W
modCWD
 = 282,
P
 = 0.001).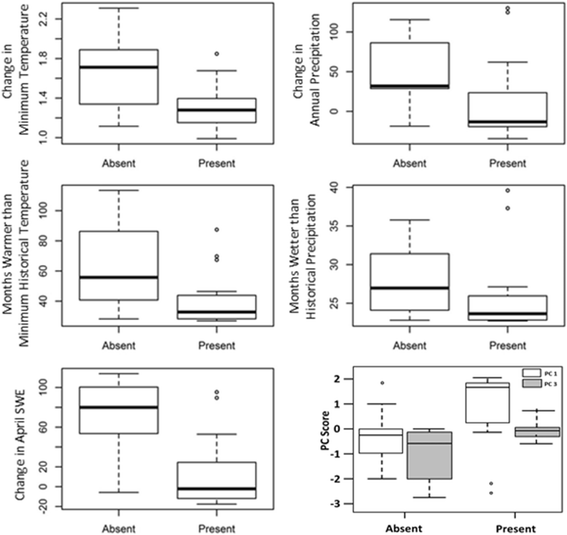 In addition, logistic regression for individual principal components of the PCA, which accounted for correlation among climate variables, strongly explained patterns in occupancy (all P < 0.05; estimated PC1 = 0.9271, estimated PC2 = −3.6038, estimated PC3 = 2.1670). Considering all components using a multiple logistic regression followed by stepwise removal leads to essentially equal support of patterns representing PC1 and PC3 (estimated PC1 = 0.6676, P = 0.054 and estimated PC3 = 1.5326, P = 0.055 when considered together). Logistic regressions of individual components indicated higher occupancy at cooler, drier sites (P < 0.05 in each case; estimated PC1 = 0.9271, estimated PC2 = −3.6038, estimated PC3 = 2.1670; Fig. 3, Additional File 8: Figure S1).
Persistence
U. beldingi
populations in California were also more likely to persist throughout the twentieth century in sites that were defined as climate change refugia from a suite of temperature and precipitation variables. Specifically, binomial tests showed that persistence was significantly correlated with refugial status (
P
 < 0.05) for 7 of 8 climatic thresholds, with the exception of change in SWE (Fig.
4
). Based on logistic regression, only PC1 predicted persistence (est. = 0.3598,
P
 < 0.01).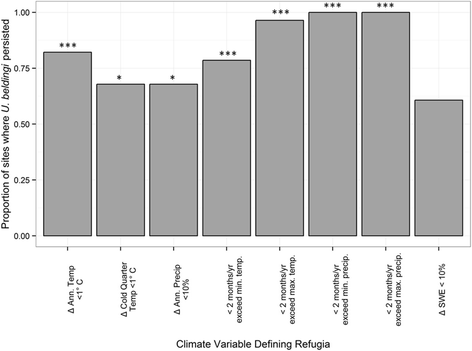 Connectivity did not predict persistence of
U. beldingi
across all sampled sites over the last century in the Central Sierra, but did affect persistence when the 21 anthropogenic refugia were excluded from the analysis (W
topo
 = 61,
P
 < 0.0001). As with occupancy, each connectivity layer contributed to this effect (W
river_pres
 = 65,
P
 < 0.0001; W
river_dist
 = 63,
P
 < 0.0001; W
road_road
 = 64,
P
 < 0.0001; W
histCWD
 = 56,
P
 < 0.0001; W
modCWD
 = 51,
P
 < 0.0001; Fig.
5
). In contrast, populations that persisted in anthropogenic refugia had the lowest connectivity values.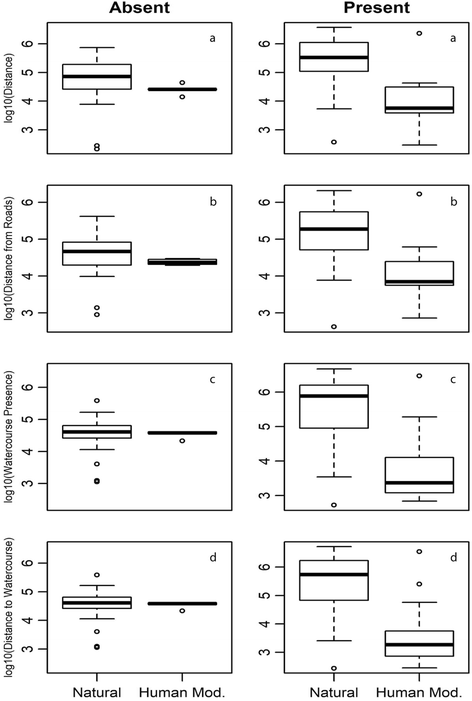 Genetic diversity
California populations of
U. beldingi
fell into four distinct genetic clusters, although the distinction between the northern and central sites could be due to lack of samples from intermediate populations. Mean allelic richness when adjusted for sample size was 3.3 ± 0.3 alleles per locus for the Central Sierra sites (range 2.28–3.85; Additional file
7
: Table S3). Most sites where there were enough
U. beldingi
to trap for a robust genetic analysis ranked as refugia; thus a comparison of the effect of refugial status on genetic diversity was not possible for most climate indices. However, Central Sierra sites with lower current mean minimum temperature had higher values of allelic richness (β = −0.24, t
9
 = −4.48, R
2
adj
 = 0.66,
P
 = 0.002; Fig.
6
) at temperature-buffered sites. As predicted, higher allelic richness of Central Sierra meadows was also correlated with higher meadow connectivity (β = 0.48, t
9
 = 2.92, R
2
adj
 = 0.43,
P
 = 0.02; Fig.
6
), but a multiple regression suggested that mean minimum temperature contributed more strongly (β
a
 = −0.28, t
7
 = −4.83,
P
 = 0.002, β
Conn
 = 2.3e-06, t
7
 = 1.52,
P
 > 0.1, β
Int
 = 4.0e-07, t
7
 = 1.62; R
2
adj
 = 0.82, F
3,7
; = 10.39,
P
 = 0.006). There was no significant effect of either meadow area or change in environmental conditions (i.e., environmental change PC axes) on allelic richness per site. Meadow area also was not predictive of persistence at these sites (Morelli et al. 2012).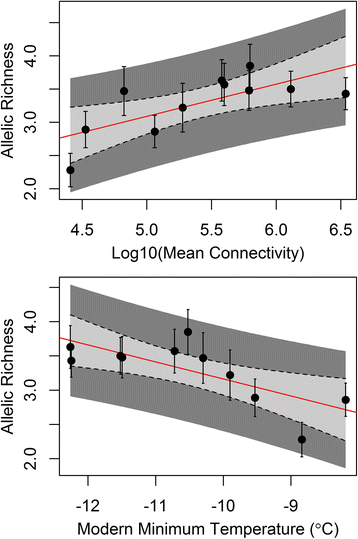 Gene flow (INTENDED AS A HEADER) across the entire region, pairwise F
ST
values (mean = 0.092) ranged from 0.012 to 0.23. The highest F
ST
values were between sites in the north and those in the central and southern region (mean F
ST
 = 0.18) and the lowest values were among the central sites (mean F
ST
 = 0.092). Analysis of F
ST
across all sites indicated that higher connectivity, based on absence of a river barrier, was correlated with higher gene flow (β
river_pres
 = −0.011, β
river_dist
 = 133.8, F = 35.78,
P
 = 0.001, R
2
 = 0.68). A more parameter-rich model supporting multiple connectivity hypotheses was found (β
pathdist
 = −1.04e-05, β
river_pres
 = 20.76, β
river_dist
 = −0.027, β
modCWD
 = −1.20e-06, F = 61.69,
P
 = 0.001, R
2
 = 0.89), but the extra coefficients, while significant, were close to unity. Focusing only on the Central Sierra sites, there was again support for watercourses as barriers to gene flow (β
river_pres
 = 54.99, F = 53.32,
P
 = 0.001, R
2
 = 0.34). See Fig.
7
for an example that considered two equidistant pairs of sites, with higher connectivity predictions correlated with lower values of F
ST
and thus higher levels of gene flow. This result was corroborated by the migrant rates estimated by B
ayes
A
ss
, with the lowest rates of migration into and out of anthropogenic refugia (Table
1
).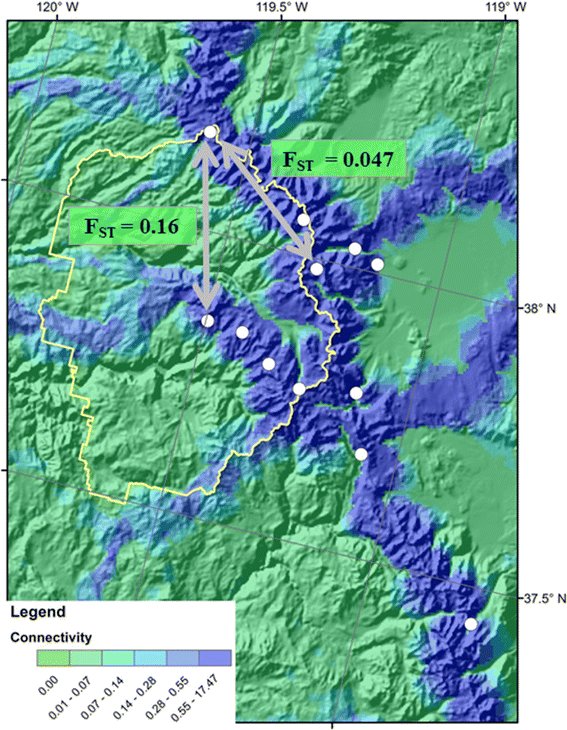 Table 1
Bayesian assessment of migration rates among Central Sierra sites, derived by BayesAss
Source Population

DL

ML

CL

VC

FL

LC

SaL

LLC

MLCP

SiL

AM

Sampled Population

Dorothy Lake (DL)

0.69

0.08

0.03

0.04

0.03

May Lake (ML)

0.68

0.15

0.03

Cathedral Lake (CL)

0.69

0.11

Virginia Canyon (VC)

0.72

0.04

0.03

0.04

0.05

0.04

Fletcher Lake (FL)

0.77

0.04

0.09

Lyell Canyon (LC)

0.05

0.78

0.05

Saddlebag Lake (SaL)

0.13

0.03

0.69

0.03

Lundy Lake Campground (LLC)

0.06

0.78

0.04

Mono Lake County Park (MLCP)

0.89

Silver Lake (SiL)

0.84

Agnew Meadow (AM)

0.03

0.11

0.69
Discussion
This study reveals clear support that climate change refugia, here identified as areas that have changed little over the twentieth century in terms of temperature and precipitation, can predict persistence, with a focus on the climate-sensitive U. beldingi. Yosemite National Park meadows that were predicted to be refugial based on several climate change indices were more likely to contain U. beldingi. Across California, persistence over the last century was higher in sites that were more stable climatically, with the exception of sites that were artificially supplemented with food or water. Allelic richness, an index of effective metapopulation size and population persistence, was highest for the coolest sites across the central Sierra Nevada. Although sample size precluded a direct test of the correlation between change in temperature and precipitation with genetic diversity across sites, this indicates that refugial sites that warm less in the future will better maintain U. beldingi populations. Thus, we show that evidence from occupancy surveys can be combined with simple genetic data to test and validate the buffering qualities of climate change refugia.
We considered several different delineations of climate change refugia in this analysis in order to explore the idea of using a single species as a test of whether an area is a climate refugium. However, species undoubtedly differ in the climate factors that are most relevant for their persistence [37]. Our previous research [38] indicated that climate change has resulted in increased body size in U. beldingi, perhaps related to longer growing seasons; thus less access to food does not appear to be driving population extirpations. We found that minimum temperature was a good predictor of persistence based on occupancy and genetic measures. Other studies have shown that mammals living in temperate montane systems could be negatively affected by warming in the winter [16, 39]. It is hypothesized that homeothermic species such as American pika (Ochotona princeps) [40] could freeze to death if the insulating snow layer disappears due to higher minimum temperatures in winter. This would be particularly relevant for hibernating species like U. beldingi that can lose necessary fat stores trying to maintain body temperature over winter. Shifts in winter timing also appear to be associated with declines in fitness of Columbian ground squirrels [41].
Conversely, it's possible that our refugia measures were correlated with other variables and thus are just indirect predictors of persistence in the face of climate change. For example, predators, parasites, or habitat may be directly related to the change in climate, and U. beldingi may actually be responding to these other factors. Further study, and experimental manipulations, would be required to partition this variation.
Our study also provides support for biologically relevant habitat connectivity as a predictor of functioning climate change refugia. Among the connectivity hypotheses examined, the impact of watercourses appeared to have the most explanatory power for U. beldingi. As expected, we found that the small, semi-fossorial U. beldingi finds a river to be a substantial barrier to movement, whereas even the largest roads crossing the mid-elevations of the Sierra Nevada are not complete impediments to their dispersal. Genetic diversity and gene flow were also predicted by the habitat connectivity models.
Previous work showed that anthropogenic refugia had the highest densities of U. beldingi [16]; however, our study found they had the lowest gene flow and habitat connectivity values. For example, the Mono Lake County Park population was genetically distinct from the nearest Central Sierra Nevada populations (Fig. 2b); other known historical populations of U. beldingi had all been extirpated from the area [16]. Thus, this research indicates that Mono Lake County Park may be acting as a refugium for a previously more ubiquitous, genetically distinct U. beldingi population in an area that is particularly low and warm for the species. Though there was almost no immigration into these sites, they may be acting as a source for nearby populations. However, this complex example highlights the need to distinguish anthropogenic refugia from ecological traps [42].
Conclusions
Climate change refugia will be important for conserving populations as well as genetic diversity and evolutionary potential [43]. As during past epochs, they may act as safe havens of genetic diversity over the forthcoming decades and centuries of drastic change across the landscape, which is consistent with our finding across the full set of study sites that recent environmental shifts and isolation were negatively associated with persistence. As such, they are key targets with potential for management action [1, 44, 45], particularly while more long-term, sustainable climate change adaptation strategies are developed. Our study shows that in-depth modeling paired with rigorous fieldwork can identify functioning climate change refugia for conservation.
Abbreviations
FST :

Fixation index
PCA:

Principal components analysis
PCR:

Polymerase chain reaction
Declarations
Acknowledgements
We are grateful to J Patton, K Rowe, A Smith, and other members of the Grinnell Resurvey Project for access to samples. We thank the faculty, staff, students, and friends who helped with data collection and analysis. Any use of trade, firm, or product names is for descriptive purposes only and does not imply endorsement by the U.S. Government.
Funding
This work was financially supported by a grant from the California Landscape Conservation Cooperative (to TLM, SRB, and CM), an NSF Bioinformatics Postdoctoral Research Fellowship (to TLM), and the DOI Northeast Climate Science Center.
Availability of data and materials
The datasets supporting the conclusions of this article are included within the article and its Additional files. Maps of refugial meadows with connectivity rankings are available through https://databasin.org.
Authors' contributions
All authors contributed to the ideas presented in this paper. CM conceived of the study. TLM, SRB, and SPM led the writing, and all edited the manuscript. TLM, MCWL, LME, and CK conducted fieldwork and, along with SPM, analyzed the data. SPM, AF, and LF produced the climate and connectivity models. All authors read and approved the final manuscript.
Ethics approval and consent to participate
Research permits from California Fish and Game (SC-10774) and Yosemite National Park Service (YOSE-2011-SCI-0085) and IACUC approval R278–0412 facilitated this research.
Consent for publication
Not applicable.
Competing interests
The authors declare that they have no competing interests.
Publisher's Note
Springer Nature remains neutral with regard to jurisdictional claims in published maps and institutional affiliations.
Open AccessThis article is distributed under the terms of the Creative Commons Attribution 4.0 International License (http://creativecommons.org/licenses/by/4.0/), which permits unrestricted use, distribution, and reproduction in any medium, provided you give appropriate credit to the original author(s) and the source, provide a link to the Creative Commons license, and indicate if changes were made. The Creative Commons Public Domain Dedication waiver (http://creativecommons.org/publicdomain/zero/1.0/) applies to the data made available in this article, unless otherwise stated.
Authors' Affiliations
(1)
Department of Interior Northeast Climate Science Center, U.S. Geological Survey, Amherst, USA
(2)
Museum of Vertebrate Zoology, University of California, Berkeley, USA
(3)
Department of Biology, Missouri State University, Springfield, USA
(4)
Department of Ecology & Evolution, Stony Brook University, Stony Brook, USA
(5)
Natural History Museum of Los Angeles County, Los Angeles, USA
(6)
The Robert Larner, M.D. College of Medicine, University of Vermont, Burlington, USA
(7)
United States Geological Survey, California Water Science Center, Sacramento, USA
(8)
Environmental Science, Policy & Management, University of California Berkeley, Berkeley, USA
(9)
Research School of Biology, Australia National University, Canberra, Australia